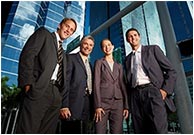 ccNetPay's primary focus is arranging merchant accounts with the acquiring banks in EU, US and Asia (HK) as well as providing online payment processing services with dozens of gateway partners. Our primary portfolio consists mostly of European based merchants, placed on German acquring banks. We are operating our business realizing that the best way to be successful is to make our top priority our customers' complete satisfaction, long term dedicated support and at the same time offer this at low competative prices.
At ccNetPay we understand the importance of providing internet merchants, whether standard e-commerce or high risk and offshore, with services that offer the most reliable and secure transaction features and credit card processing available on markets today. That's why online merchants worldwide turn to us for safe and cost-effective payment solutions.
With our network of acquiring banks and partner processors we offer highly reliable payment gateways for live and batch processing, with a range of built-in services such as advanced fraud prevention tools, virtual terminal for phone/mail orders, recurring billing modules, fully PCI compliant secure processing, 3D Secure, and much more... For each merchant our top priority is to arrange a direct merchant account at one of the well established and known banks. It works hand in hand with all our gateways, bringing you payouts on time and, because there is no 3rd party processing involved, with peace in mind.
Internet merchants from diverse industries are benefiting from our services including high risk merchants like adult entertainment, online pharmacies, casinos, sportsbooks, bingo and lotteries, betting exchanges, pre-paid cards, e-wallets, travel, e-wallet, escort agencies, and more.
Our current merchants network is most prominent in UK and EU countries like Denmark, Germany, Norway, Sweden, Austria, Ireland, Spain, Switzerland, Luxemburg, Cyprus, Gibraltar, Malta, Israel, Latvia, but also includes merchants from USA, Canada, Hong Kong and Japan.
Our broad banking relationships, partnerships with other European payment service providers, dedicated customer service and technically perfected services are the foundation for our business relationship with you as our future customer.
We look forward to helping you obtain a peftect merchant setup.